Visualize your work
The Kanban board gives you an excellent overview of your current work situation.
When working in a team of people you can instantly see what other people are working on right now, what has been done and what is coming up.
KanbanFlow can be used as a Lean project management tool for you and your team. Its intuitive user interface will get you up and running in a few minutes.
Collaboration in real-time
When working in a team, as soon as any of your team members makes a change to the Kanban board, that change is propagated to all the team members screens.
So if you add, delete or move a task on your screen, the same action happens instantly for the rest of the team on their screens.
Subtasks
By dividing your tasks into subtasks you can track how much progress you have made on a specific task.
As soon as a subtask is completed, you can directly tick it off on the board. The change is automatically saved without any further action required of you.
Built for speed
Get things done, quickly. That's the way we think it should be when working with a lean project management tool.
Add, delete, move or reorder your tasks without experiencing any frustrating loading times.
Time tracking with Pomodoro support
You can optionally track the time you are working on a task by using a timer.
The timer supports the popular Pomodoro technique for time management. The Pomodoro technique recommends working with full focus for 25 minutes before taking a short break. Then work another 25 minutes followed by another break. And so on.
Document & file attachments
Attach documents, spreadsheets, presentations and other files to your tasks.
You can attach files directly from your computer, Dropbox, Box or Google Drive. If you have the file on your computer, simply drag it to the drop area to start the upload.
This feature is available in the premium version.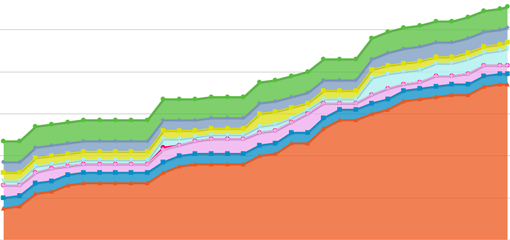 Analyze & evolve your process
Use the Cumulative Flow, Cycle and Lead time charts to easily spot bottlenecks in your workflow. Adjust your process by adding/removing columns or change your WIP limits.
After you have changed your process, check the statistics after a few days to evaluate if you reached the intended effect.
This feature is available in the premium version.
Mobile support for most smartphones
Looking for an Android or iPhone app for KanbanFlow? When you are away from the computer you can use our mobile site. It works on Android, iPhone and most other smartphones.
To use the mobile site, just go to https://kanbanflow.com/m on your phone.
Start boosting your productivity today
KanbanFlow offers a powerful free version:
Unlimited boards
Unlimited users
No time limit
Sign up for a free account